Our Tires
If you love your car, you must also love your tires. Every driver needs reliable tires and wants a longer life from them. At Al Mailem, you can find the right fit between your desired features, performance, quality and price. We stock an expansive selection of passenger, performance, SUV and speciality tires, catering to every need and covering almost every make and model of automobile on the road today.
When it is time to replace your tires, visit us at any one of our many showrooms located all across the country. With friendly and seamless service, our expert technicians will have you back on the road in no time!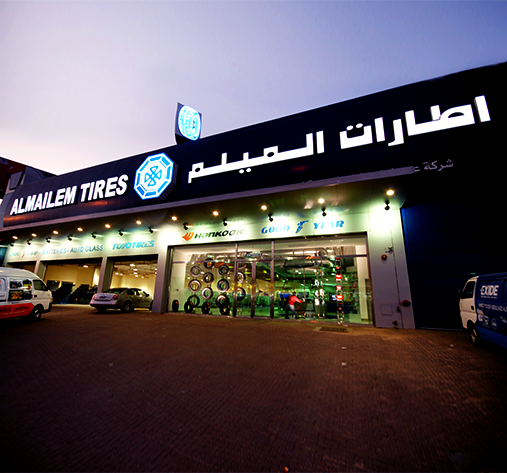 Tires from Top Brands
We take great pride in being the exclusive distributor for many top international brands. These include – Toyo, Hankook, Continental, Goodyear, Nitto, Runway, Accelera, Primewell, Ceat, Solideal and TVS. Whatever the tire specificity, we are able to offer every customer the luxury of choice.
Diverse Applications
Our product portfolio is made up of a complete range of tires for diverse applications – saloon cars, luxury sedans, sports cars, SUVs/4WDs, commercial vehicles, industrial forklifts and earthmoving equipments. And that's not all – we even have specialized tires for oil-rigs, port stackers, articulated dump trucks etc.
Largest Tire Retail Network in Kuwait
Our retail footprint comprises a dense network of showrooms and service centers conveniently located in all prominent areas. Our tire centers are well-equipped with latest state-of-the-art equipment, and are professionally manned by trained staff. In addition, our tire brands are also available at various independent dealer outlets as well as cooperative stores found in different areas.
Corporate Customers
For transporters, companies with large fleets and other corporate customers, we have a dedicated outdoor team for direct sales and supplies. Contact us for a bulk inquiry and a member of our sales team will visit you at your office or site. Our objective is not just to sell you tires, but also to offer solutions that will reward your bottom line while delivering satisfactory performance over the long run.