موردي معدات المرآب في الكويت
لماذا تختارنا لأدوات ومعدات المرآب؟​
متخصصون في معدات مرآب السيارات ذات العلامات التجارية العالية جنبا إلى جنب مع التركيبات الكاملة الاحترافية. لدينا سنوات من الخبرة في توريد المنتجات المناسبة لورشة السيارات الخاصة بك في جميع أنحاء الكويت.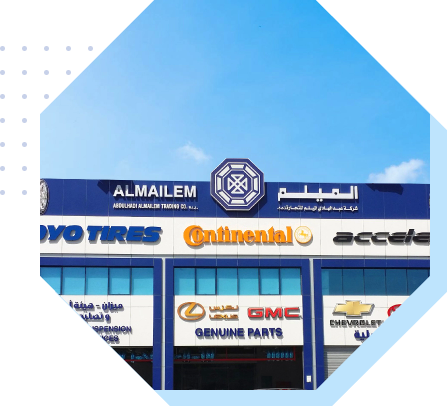 قم بزيارة متجرنا​
قم بترقية كفاءة سيارتك باستخدام أدوات دقيقة من أفضل العلامات التجارية. قم بزيارة المرآب الخاص بنا للحصول على مساعدة الخبراء.
Find Automotive Garage Equipment in Kuwait
Vehicle repair and maintenance can take a toll on you, but at the same time, you need to focus on the quality and efficiency of the garage equipment you are purchasing.
This is why you need AlMailem Group to buy garage equipment of premium quality from top brands at reasonable prices.
With years of experience in providing durable products and the best services, we stock a wide range of automotive equipment such as tyre changers, wheel balancers,
wheel alignments, diagnostic devices, air compressors, service jacks, etc. that fits right into your budget.
Read More

Close

Types of Garage Tools and Equipments

Bring in new customers and deliver reliable service to your existing customers by adding the latest garage tools and equipment to your business.
Different types of automotive garage equipment from AlMailem include the following:

Tyre Equipment

Tire related services such as changing them, improving efficiency and accuracy, balancing tyres, etc., are always in high demand.
And for this, you need reliable tire equipment such as tire changers, wheel alignment, wheel balancers, etc. to simplify the procedure of changing tyres with precision.

Automotive Lifts

Automotive lifts are the most significant component of any garage because they ensure safe and efficient ways of elevating vehicles to perform repairs, maintenance,
and inspection of the same. Buy service jacks, two-post lifts, scissor lifts, four post & midrise lifts, and other variants to easily lift vehicles of any size.

Diagnostics Devices

Get diagnostic devices with advanced technology to troubleshoot any vehicle issues. Moreover, these tools let you interpret diagnostic codes for any vehicle,
thereby understanding engine performance, emissions, and others.

Air Compressor

Another important garage tool, the air compressor, ensures the performance of pneumatic tools. This, in turn, enhances the efficiency of your garage.
For effective repair and maintenance of your vehicle, piston-type air compressors and screw-type air compressors are readily available at AlMailem.

Motorcycle equipment

Oil change equipment and motorcycle equipment are other important items you require in your business for effective ways of changing oil,
motorcycle repair and maintenance, etc. Buy oil drain pans, oil extractors, oil dispensing systems, etc. at the best prices in Kuwait.

Automotive Garage Tools

Additional workshop tools such as workbenches, parts washers, welding equipment, hand tools, and air tools such as air drills,
transmission jack, engine cranes, creepers, etc. are readily available in Kuwait's online automotive garage stores.

Car Care Products

At AlMailem Group, we store a comprehensive list of car detailing and polishing products, such as car shampoos, waxes, polishes, etc.,
to enhance the aesthetic beauty of your customer's ride. Furthermore, buy maintenance products such as engine additives, lubricants, cooling system treatments, etc.

Nitrogen Filler

Nitrigen-filled tires offer a plethora of benefits, like maintaining constant pressure, improving fuel efficiency, better handling, and more.
Enhance tire performance and offer a smooth ride to your customers with nitrogen fillers.

AC Machine

A complete service of any vehicle includes diagnosing and servicing air conditioning systems. Ensure that your customer's vehicle is capable
of providing optimal cooling performance with efficient AC machines from AlMailem.

AlMailem - Automotive Equipment Supplier in Kuwait

Are you in search of the perfect garage tool and equipment supplier in Kuwait? Then check out AlMailem to find a vast assortment of automotive equipment.
To ensure precision and accuracy in the repair and maintenance of vehicles for your valued customers, we sell garage tools from premium brands such as Hofman,
Hesbon, Robinair, Puma, Nuair, Sun, Custor,Boxer, Bigred, Bamex, SARV.

Learn more about us online or visit us at our offline stores spread across Kuwait. To help you out, we have an expert panel experienced in providing the best
car services anywhere, anytime.
Frequently Asked Questions:
You can find automotive garage equipment in Kuwait at various reputable suppliers and stores. AlMailem Group is recognized as one of the best providers, offering a diverse range of high-quality automotive garage equipment to meet your needs. Consider checking their offerings for reliable products.
In Kuwait, you can find a wide range of automotive garage equipment, including tools, lifts, diagnostic equipment, tyre changers, wheel balancers, and more. AlMailem Group is renowned for offering the best selection of high-quality automotive garage equipment to cater to diverse needs.
When choosing automotive garage equipment in Kuwait, consider factors like quality, durability, functionality, brand reputation, after-sales support, and compliance with industry standards. AlMailem Group is a trusted provider offering reliable automotive garage equipment, making them an excellent choice for meeting your needs effectively.
There are several recommended brands for automotive garage equipment in Kuwait, including AlMailem Group. With its reputation for excellence and a wide range of reliable products, AlMailem Group is considered one of the best manufacturers of automotive garage equipment in Kuwait.