Kuwait's first exclusive Mobile App for Tires
AlMailem is always on the move, this time to make you, the customer have even more easier access to tire replacement. All you need is to download the ALMAILEM APP and rest is just a few clicks away.
We are proud to be the first in Kuwait to use technology to make changing tires easier than ever before, through a dedicated Mobile App.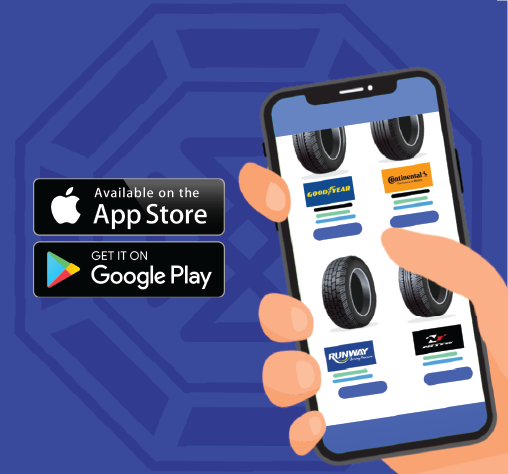 وللوصول إلى التطبيق الفائز ...
تحميل وتسجيل تطبيق الميلم على متجر أبل أو متجر بلاي

أدخل مواصفات الإطار التي قرأتها من إطارك

حدد الطراز والسعر المناسبين لاختيارك

اختر المنفذ الذي تختاره أو اطلب أن تأتي الشاحنة المتنقلة إليك (تطبق 10 د.ك إضافية على خدمة الشاحنة)
انقر فوق الشراء والدفع باستخدام knet أو بطاقة الائتمان أو bookey

تذكر دائما - نأتي لك بالشويخ!
اتصل برقم خدمة العملاء 1884737 للحصول على أي نوع من المساعدة
يتمتع العميل بالتحكم الكامل في العملية من البداية إلى النهاية ، مما يلغي الانتظار في المتاجر وحركة المرور والقيادة الطويلة. يمنحك الوقت للقيام بالأشياء التي تريد القيام بها حقا.


اتصل برقم خدمة العملاء 1884737 للحصول على أي نوع من المساعدة
يتمتع العميل بالتحكم الكامل في العملية من البداية إلى النهاية ، مما يلغي الانتظار في المتاجر وحركة المرور والقيادة الطويلة. يمنحك الوقت للقيام بالأشياء التي تريد
هناك قسم خبير لنصائح الإطارات ، والذي يوفر لك المعلومات ذات الصلة حول أداء الإطارات وصيانتها من الميكانيكيين الخبراء في الميلم.
الغرض من التطبيق بسيط للغاية: إرشادك حول استبدال إطاراتك دون ضجة حتى تكون أنت وإطاراتك دائما في الجانب الآمن.
Green Rubber Recycling Co.
GRRC is a step towards building a movement towards sustainability within the automotive industry by going beyond short-term, inadequate and hazardous stockpiling of tires. The seemingly endless seas of discarded rubber in the Kuwaiti desert have proven to be environmentally disastrous in the past. We ensure that the tires sold by us are not only provided a safer and cleaner alternative of disposal but are given a new lease of life, be it on playgrounds and sports fields, or as fuel and flooring. GRRC believes that responsible business practices coupled with human ingenuity can address the world-wide problem of urban waste and create enduring value. Every day, used tires are collected from AlMailem's various tire retail outlets and taken to our state-of-the-art factory, where investment in the newest recycling technology enables us to process and produce many items of utility. We are proud of our contribution in making our country and planet cleaner and safer for all.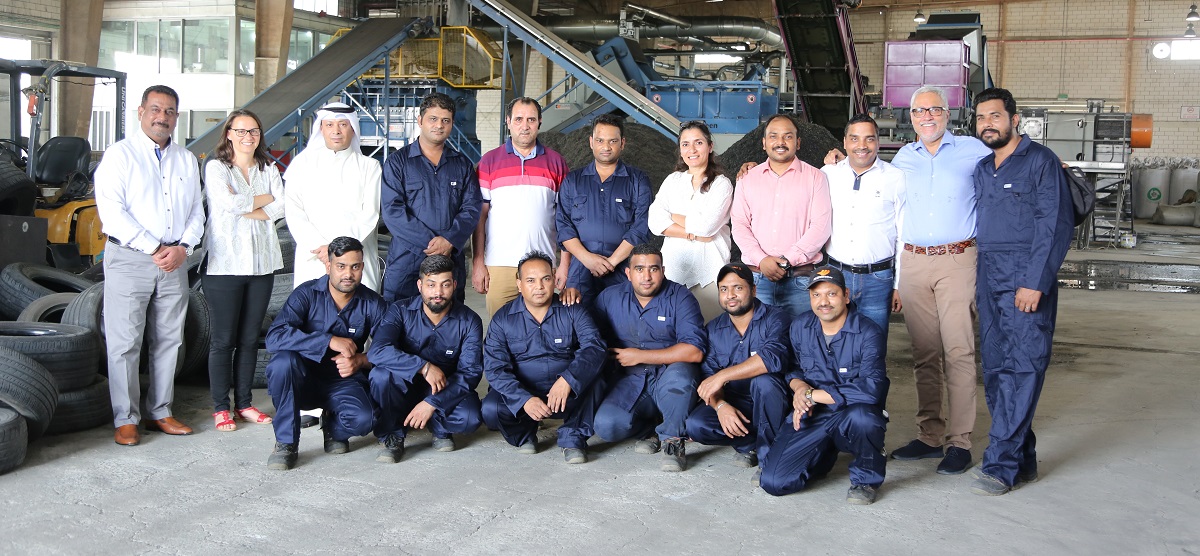 Almailem is Proud to 'Go Green'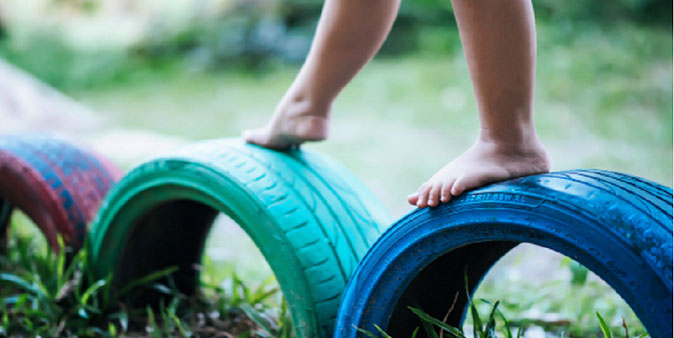 In 2013, Almailem Group embarked on an ambitious journey!! We decided to Go Green, and we took the bold step to create a recycling factory for used tires.
The objective was to give the used tires a new life. This journey was filled with challenges, but we embraced disruption as an opportunity to progress constructively.
Many mistakes were made and disasters faced, like equipment failure, product failures, and dealing with high working temperatures, and also because this was a new area for us, it came at the cost of learning and understanding, which lead us to make it finally work.
Recycling of used tires can be done in various ways, one is the mechanical process. At Green Rubber Recycling, we shred complete tires and separate the key components – rubber, steel and fibre. Steel and fibre also go into further recycling or applications.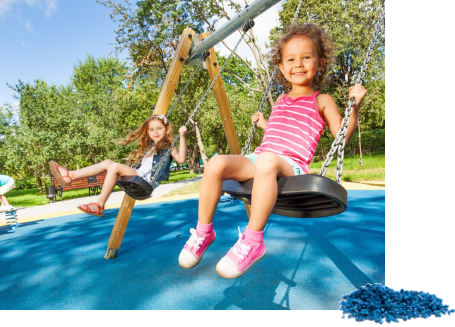 Interestingly, one of the products we produce is rubber crumb, which is further used to make a variety of flooring applications like tiles and mats. They can be used in playgrounds, nurseries, car parks, walkways, medical applications, the uses are endless. This process also generates fine rubber powder, which is used as a filler in select kinds of tire manufacturing. Slowly, with time, tires have come through a complete circle of life.
In terms of sustainability, rubber flooring as a material is eco-friendly and further recyclable with a very low impact on the environment.
Being the pioneer in introducing waste tire recycling to Kuwait, our mission is to continue to build a business that positively contributes towards minimizing waste. Our aim is to reach a zero waste target, and we are working steadily towards this.
Why Choose AlMailem for Your Car Battery?
Car battery is a critical component in your vehicle, and that's why we deal with top international battery brands with a proven track record. At AlMailem, you will find a wide variety of automotive batteries to choose from.
Choose premium car batteries with two-year warranty at the best prices in Kuwait. Ask our battery experts, they will guide you to choose the right battery for your vehicle.
Our Battery Range
Car & SUV Batteries
Commercial Batteries (trucks, buses & equipment)
Motorcycle Batteries
Golf Cart Batteries
Marine & Boat Batteries
Solar Batteries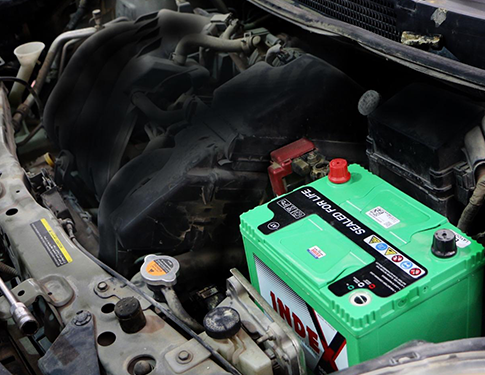 Retail Outlets
We have two specialized battery centers located in Shuwaikh Industrial area. Besides this, Our batteries are also sold through a large network comprising of various independent dealers and battery shops.
Fleet accounts
For large fleets and bulk customers, our team of dedicated outdoor battery salespersons provide unparalleled services in direct sales & supplies.
Mobile Van Delivery
When you hit an unexpected dead Battery, our battery experts will come to your location.
We are official distributors for several global premium brands.
Auto Glass
Your windshield is an important player in your vehicle's strength and works together with other safety components to protect you on the road. A windshield chip often comes when you least expect it but must always be attended to. We encourage drivers to come to us to prevent windshield chips from spreading and causing further damage.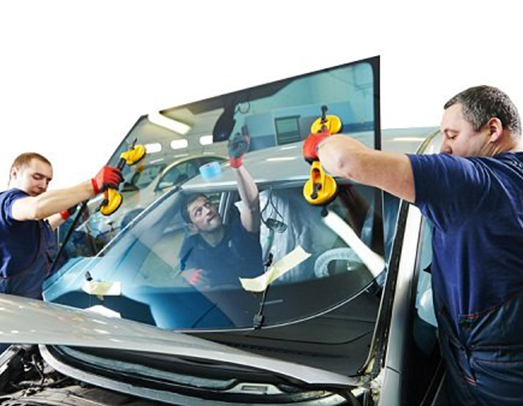 شبكة البيع بالتجزئة
لدينا شبكة واسعة من منافذ بيع زجاج السيارات في المناطق الصناعية الرئيسية – أربعة في الشويخ وواحد في كل من الفحيحيل والأحمدي وشرق والجهراء. إلى جانب ذلك ، نقوم أيضا باستبدال زجاج السيارات المحمول لعملائنا الكرام الذين يعملون في جميع أنحاء البلاد ليحلوا محل زجاج السيارات في مواقع العملاء
Our Tires
If you love your car, you must also love your tires. Every driver needs reliable tires and wants a longer life from them. At Al Mailem, you can find the right fit between your desired features, performance, quality and price. We stock an expansive selection of passenger, performance, SUV and speciality tires, catering to every need and covering almost every make and model of automobile on the road today.
When it is time to replace your tires, visit us at any one of our many showrooms located all across the country. With friendly and seamless service, our expert technicians will have you back on the road in no time!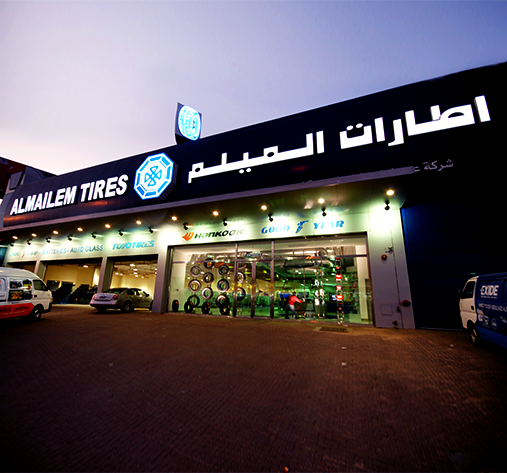 Tires from Top Brands
We take great pride in being the exclusive distributor for many top international brands. These include – Toyo, Hankook, Continental, Goodyear, Nitto, Runway, Accelera, Primewell, Ceat, Solideal and TVS. Whatever the tire specificity, we are able to offer every customer the luxury of choice.
Diverse Applications
Our product portfolio is made up of a complete range of tires for diverse applications – saloon cars, luxury sedans, sports cars, SUVs/4WDs, commercial vehicles, industrial forklifts and earthmoving equipments. And that's not all – we even have specialized tires for oil-rigs, port stackers, articulated dump trucks etc.
Largest Tire Retail Network in Kuwait
Our retail footprint comprises a dense network of showrooms and service centers conveniently located in all prominent areas. Our tire centers are well-equipped with latest state-of-the-art equipment, and are professionally manned by trained staff. In addition, our tire brands are also available at various independent dealer outlets as well as cooperative stores found in different areas.
Corporate Customers
For transporters, companies with large fleets and other corporate customers, we have a dedicated outdoor team for direct sales and supplies. Contact us for a bulk inquiry and a member of our sales team will visit you at your office or site. Our objective is not just to sell you tires, but also to offer solutions that will reward your bottom line while delivering satisfactory performance over the long run.