AlMailem تطبيق الميلم للجوال
 أول تطبيق جوال حصري للإطارات في الكويت.
إن الميلم دائماً تتحرك، وهذه المرة لتتيح لك كزبون طريقةً أسهل لاستبدال الإطارات.
كل ما تحتاجه هو تحميل تطبيق الميلم (ALMAILEM APP) ويبقى أمامك بضع نقرات فقط.
نفخر بأن نكون أول من استخدم التكنولوجيا في الكويت لجعل تغيير الإطارات أسهل من أي وقت مضى، وذلك عن طريق تطبيق مخصص للجوال.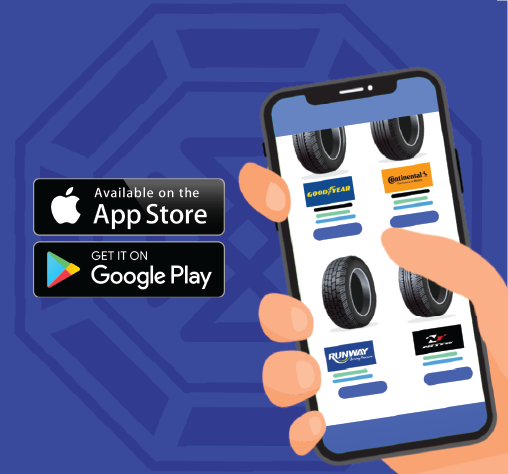 وللوصول إلى التطبيق الفائز...
أدخل المواصفات التي تقرأها على الإطار الخاص بك.
حدد الطراز والسعر المناسبين لاختيارك.
حدد منفذ اختيارك أو اطلب شاحنة متنقلة لتأتي إليك (يتم فرض عشرة دنانير كويتية إضافية لقاء خدمة الشاحنة)
انقر على شراء وادفع عن طريق كي نت أو بطاقة الائتمان أو بوكي
تذكر دائماً – يمكننا أن نحضر الشويخ إليك!
اتصل برقم خدمة الزبائن 69397600 or 96662316 للحصول على أي نوع من المساعدة.
يتحكم العميل بالعملية بشكل كامل من البداية إلى النهاية، ليتخلص بذلك من الانتظار في المحلات والازدحام المروري والطريق الطويل. مما يمنحك الوقت للقيام بما تريد فعله حقاً.
يوجد قسم متخصص بنصائح الإطارات ليزودك بالمعلومات المتعلقة بأداء الإطارات الخاصة بك وصيانتها من قِبل الميكانيكيين الخبراء في الميلم.
هدف التطبيق بسيط للغاية، وهو إرشادك لاستبدال إطارات سيارتك دون عناء كي تكون أنت والإطارات الخاصة بك في بر الأمان دائماً.
AlMailem المنتجات المعاد تدويرها
شركة جرين ربر لإعادة التدوير
تعد شركة جرين ربر لإعادة التدوير إنجازاً غاية في الأهمية نحو بناء أسس الاستدامة البيئية داخل قطاع السيارات وذلك عبر تجاوز مشكلة التخزين والتكديس المؤقت الخطير للإطارات. وقد أثبتت المشاهدات الكثيرة على ما يبدو لصور الاطارات المهملة والمكدسة في صحراء الكويت أنها كادت تسبب كارثة بيئية فيما الماضي. واليوم نحن نضمن أن الإطارات التي نبيعها لا تعتبر بديلاً أكثر أمانًا ونظافةً وحرصاً على البيئة وحسب، بل تمنح فرصة جديدة لحياة آمنة أيضاً، سواء كان ذلك عبر تجهيز ساحات اللعب والملاعب الرياضية الآمنة، أو كوقود وأرضيات. وتؤمن شركة جرين ربر لإعادة التدوير أن الممارسات التجارية المسؤولة المقترنة بالبراعة البشرية يمكن أن تعالج مشكلة النفايات في المدن على مستوى العالم وتخلق قيمة إيجابية مستدامة. تجمع الإطارات المستعملة كل يوم من منافذ الميلم لبيع الإطارات المختلفة بالتجزئة وتنقل إلى مصنعنا الحديث المتطور، الذي يستثمر في أحدث تقنيات إعادة التدوير ومعالجة وإنتاج العديد من العناصر المفيدة. نحن فخورون بمساهمتنا في جعل بلادنا وكوكبنا أكثر نظافة وأمانًا للجميع.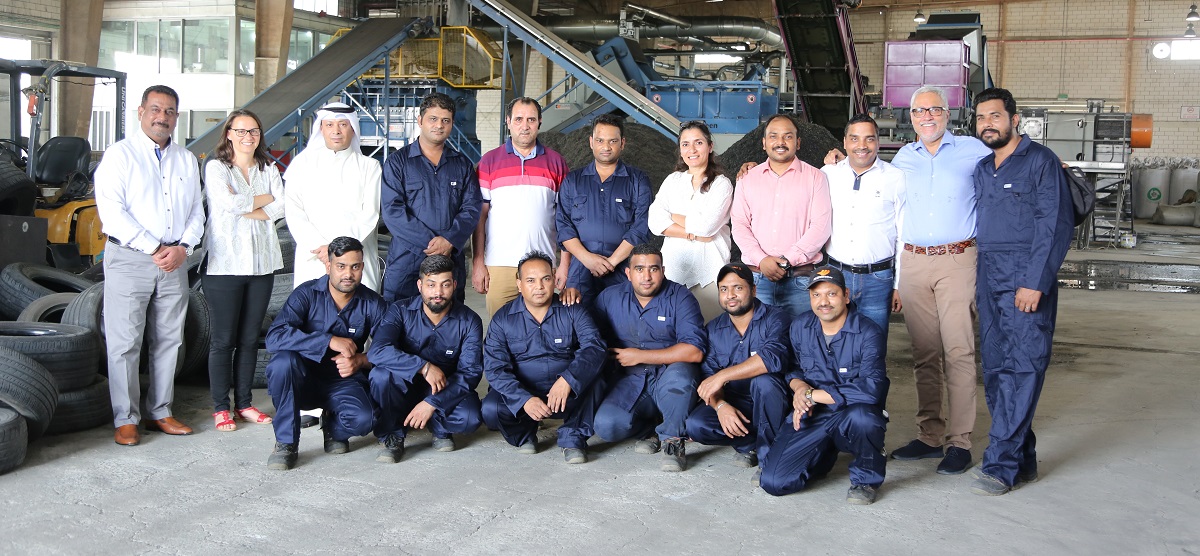 AlMailem Auto Parts
AlMailem Auto Spare Parts offers a one-stop solution for all automotive parts requirements for American, Japanese & Korean vehicles, from Cars to SUVs, MPVs, 4WDs, and Light Trucks. We understand the importance of having a vehicle running at its optimum capability always, so we have worked towards expanding our catalogue of offering auto spare parts, by providing the customer with a wide range of prices and products to choose from.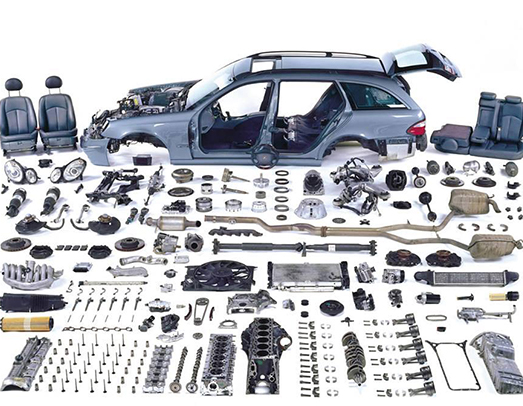 Extensive network
We have a country-wide retail network, manned by professional and expert sales staff, and supported by a dedicated customer care sales team. No matter where you are located, you can find an AlMailem spare parts outlet near you.
Corporate customers
We cater to all segments of business – Retail, Wholesale, Corporate, Fleets, Insurance companies and Garages. Apart from various retail outlets for walk-in customers, we have a specialized outdoor sales and delivery team for bulk buyers.
AlMailem الزيوت ومواد التشحيم
Oils and Lubricants
At AlMailem, we believe in serving our customers by enabling superior, efficient equipment performance. In this regard we have sought out products that set the bar for quality well above standards. In 2006, AlMailem diversified into the distribution of reputed brands of oils and lubricants. Over the years, we have witnessed high growth as this division has come to be recognised for its superior quality.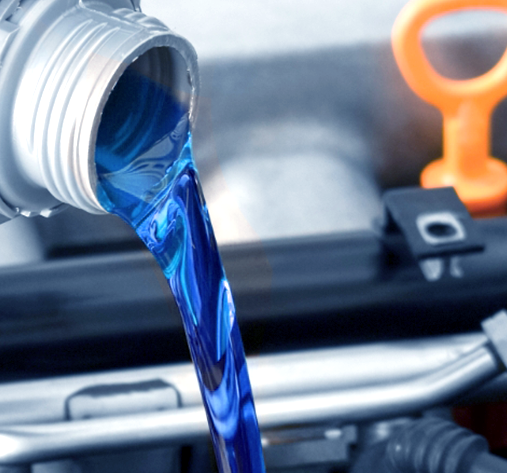 Comprehensive Range
We supply a full range of automotive oils and lubricant products and solutions for diverse applications. Besides this, Marine oils and specialized Industrial lubricants like Mould Oil are also available on demand. Our products are available in Multiple Packing Options from retail packing (1L or 4L cans) and 20-Litre pails as well as bulk-packing (208-litre drums), depending on usage-level.
Dynamic Sales Team
We have dedicated outdoor sales team for covering both dealer outlets as well as corporate fleets. We offer periodic training programs for dealers, garage mechanics and supervisors to update them with latest trends in lubricant technology, testing and chemical analysis of oils and lubricants and also provide oil-dispensing equipment for large consumption customers.
Car battery is a critical component in your vehicle, and that's why we deal in top international battery brands with a proven track record. At AlMailem, you will find a wide variety of batteries to choose from.
Choose premium car batteries with two year warranty at the best prices in Kuwait. Ask our battery experts, they will guide you to choose the right battery for your vehicle.
Our Battery Range
Car & SUV Batteries
Commercial Batteries (trucks, buses & equipment)
Motorcycle Batteries
Golf Cart Batteries
Marine & Boat Batteries
Solar Batteries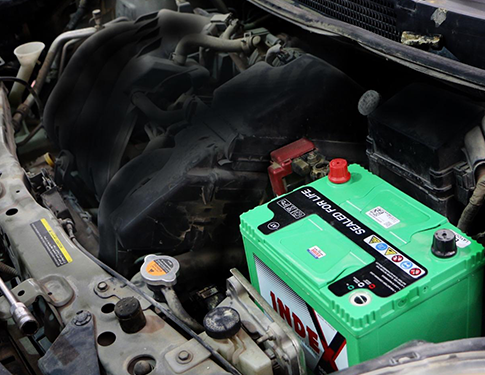 Fleet accounts
For large fleets and bulk customers, our team of dedicated outdoor battery salespersons provide unparalleled services in direct sales & supplies.
Mobile Van Delivery
When you hit an unexpected dead Battery, our battery experts will come to your location.
Retail Outlets
We have a network of battery centers located in Shuwaikh, Sharq & Fahaheel industrial areas, which are fully-equipped and professionally-managed by trained technicians. Besides, the batteries are also sold through various independent dealers and battery shops.
Top Brands
We are the authorized distributors for SF Sonic, Index, Black Panther & Quick Start batteries. These brands are globally reputed, and have delivered highly satisfactory performance in Kuwait.
Equipments & Tools for Garages
If you own a garage, manage an auto-workshop, or are simply an automobile enthusiast, all your garage equipment and tools can be found at AlMailem. We are committed to working together with your team, to deliver best results and help improve your competitive advantage in the market. We have an array of specialised and sophisticated machines and gadgets that can comfortably handle the latest generation of vehicles while carefully tending to older makes.
Car Care Products & Accessories
AlMailem offers you a wide range of cleaning and care products for the vehicle exterior and interiors.
Products like: Air Fresheners · Engine Care · Interior Surface Cleaning · Washing · Waxing & Detailing · Wheel & Tyre Care · DIY · Car Care Kits.
Our product range is quite exhaustive and includes exclusive tie-ups with leading suppliers in the world so we can offer you the best.
Service Support
We look at you not just as a one-time buyer but as our long-term business partner. To ensure that the equipment delivers trouble-free performance always, we have a dedicated and experienced service team that is just a phone call away.
Training
We provide free on-machine training to garage mechanics and tire-fitters at customer sites and in our company outlets. With support from our principals, we periodically conduct product seminars training sessions to keep our customers abreast with latest industry trends and developments.
Auto Glass
Your windshield is an important player in your vehicle's strength and works together with other safety components to protect you on the road. A windshield chip often comes when you least expect it but must always be attended to. We encourage drivers to come to us to prevent windshield chips from spreading and causing further damage.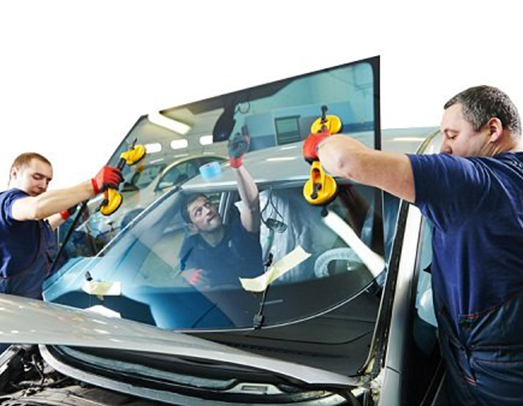 Retail Network
We have an extensive network of auto-glass outlets located in major industrial areas – four in Shuwaikh and one each in Fahaheel, Ahmadi, Sharq and Jahra. Besides this, we also mobile auto-glass replacement vans for our valued customers that operate across the country replacing auto-glass at customer sites.
Our Tires
If you love your car, you must also love your tires. Every driver needs reliable tires and wants a longer life from them. At Al Mailem, you can find the right fit between your desired features, performance, quality and price. We stock an expansive selection of passenger, performance, SUV and speciality tires, catering to every need and covering almost every make and model of automobile on the road today.
When it is time to replace your tires, visit us at any one of our many showrooms located all across the country. With friendly and seamless service, our expert technicians will have you back on the road in no time!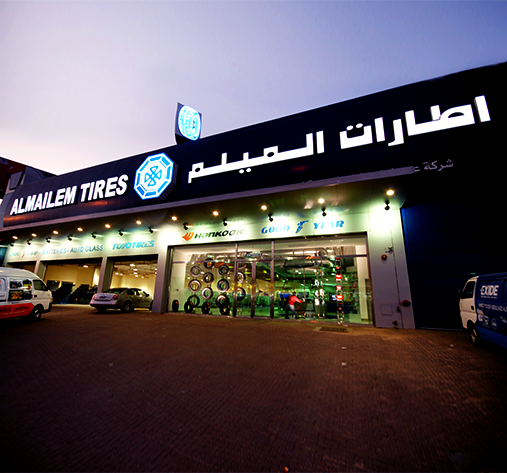 Top Brands
We take great pride in being the exclusive distributors for many top international brands. These include – Toyo, Hankook, Continental, Goodyear, Nitto, Runway, Accelera, Primewell, Ceat, Solideal and TVS. Whatever the tire specificity, we are able to offer every customer the luxury of choice.
Diverse applications
Our product portfolio is made up of a complete range of tires for diverse applications – saloon cars, luxury sedans, sports cars, SUVs/4WDs, commercial vehicles, industrial forklifts and earthmoving equipments. And that's not all – we even have specialized tires for oil-rigs, port stackers, articulated dump trucks etc.
Retail Network
Our retail footprint comprises a dense network of showrooms and service centers conveniently located in all prominent areas. Our tire centers are well-equipped with latest state-of-the-art equipment, and are professionally manned by trained staff. In addition, our tire brands are also available at various independent dealer outlets as well as cooperative stores found in different areas.
Corporate Customers
For transporters, companies with large fleets and other corporate customers, we have a dedicated outdoor team for direct sales and supplies. Contact us with a bulk inquiry and a member of our sales team will visit you at your office or site. Our objective is to not just to sell you tires, but also offer solutions that will reward your bottom-line while delivering satisfactory performance over the long run.